日本国島根県竹島 Takeshima, Shimane Prefecture, Japan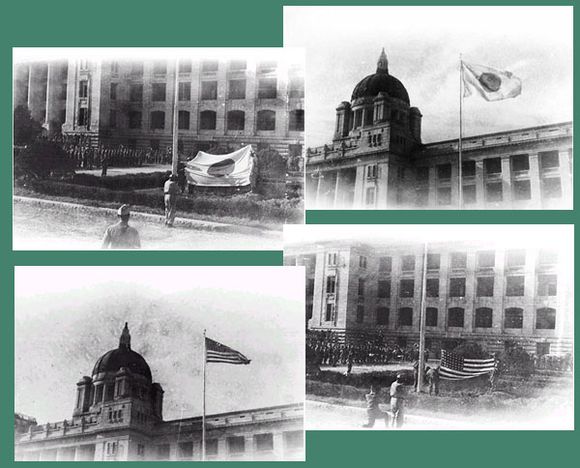 @perfumekawaee「韓国が独立したのは韓国の手によるものだ」にいたっては呆れてものも言えない。誰も日本からの独立など望んでいなかったのにアメリカに強制的に独立させられたというのが真実だ。
tweets "South Korea gained independence all by itself! " That's utterly fabricated and absurd! No one desired to be independent from Japan in those days. South Korea was forced by U.S. to become independent from Japan. That is a truth!
A true history tells us that:
On August 15, 1945 when Japan decided to end the Greater East Asia War, Governor of Korea, Great Imperial Japanese Army General Nobuyuki Abe and Commander-in-Chief, Lieutenant General Yoshio Kouzuki lowered "Rising Sun flag" and hoisted "South Korean flag", thereby initiating the establishment of Korean Nation Preparation Ccommittee and granting Korea autonomy. In other words, South Korea never gained independence from Japan but was granted "Autonomy" by Japan on August 15, 1945.
However, the autonomy granted by Japan did not last long. On September 8, 1945, the United States of America advanced its forces into Southern Korea (now called South Korea or Republic of Korea), the U.S. forces nullified "autonomy granted by Japan" and pulled down "South Korean flag" and hoisted "Rising Sun flag".
U.S. forces proved that Southern Korea was a part of Japanese territory, therefore, placed under administration of U.S. forces after September 9, 1945.
On September 9, 1945, a day after U.S. forces advanced into Southern Korea, General Douglas MacArthur declared that Southern Korea would be placed under administration of U.S forces. And, "Stars and Stripes" was flown over the sky in Southern Korea.
Therefore, August 15 is not the day South Korea became neither independent nor liberated. Three years later August 13, 1948 is the day when South Korea was established after becoming free from administration of U.S. forces.
Above all, Korea never fought against Japan to gain independence at all before and during Japan-Korea annexation because Korea asked Japan for the annexation in those days lest Korea would be completely controlled by either Russia or the western powers. The annexation of Korea was internationally fully recognized as being lawful. It was done in a peaceful manner.
The current education in South Korea has unjustifiably denied an apparent historical fact that Japan had long helped South Korea rebuild its nation even after it was devastated during the Korean war and that Japan had earlier developed Korea into a civilized peninsula during 35 years of annexation after Koreans vehemently sought help from Japan before 1910.  Before Japan defeated Qing Dynasty (the last imperial dynasty of China, ruling from 1644 to 1912) in 1895, Korea was a complete vassal state of Qing Dynasty who had practiced brutal rule over Korea.