tweets This is the guy who is trying to bring down "Osprey" in Okinawa.
沖縄でオスプレイを落とそうとしているテロリストはこいつです。→
http://twitpic.com/bb86cr  許せないと思った方はリツイート。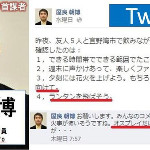 via twitpic.com  Click here to enlarge
Mr. Yara Tomohiro, ex-Commentator of The Okinawa Times tweets as follows: Last night five of us met at Ginowan City, Okinawa and discussed our strategy while drinking. We agreed on the following;
1. We continue to fly "Kites" whenever we can and as much as we can.
2. On every weekend, families get together and enjoy flying kites.
3. In the evening, set off fireworks. Of course, use "Fireworks Rockets" and set off fireworks rockets targeted at Futenma.
4. Fly "Lanterns" and burn "Osprey"!