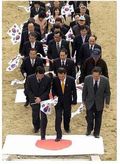 Make sure you leave your footprints on it!  チャン(チョン?)とよく(欲?) 踏めよ! (Click photos to enlarge)
Deranged Koreans are seen insulting Japan and her people by stepping on "Rising Sun flag".
「先月竹島訪問を計画」=天候悪化で中止―韓国大統領
 【ソウル時事】韓国の李明博大統領は8日夜、KBSテレビに出演し、先月、夫人とともに、鬱陵島訪問を計画し、近くの竹島(韓国名・独島)にも行こうとしたが、天候悪化で中止したと明らかにした。その上で「われわれの領土だからいつでも行ける」と強調した。
 竹島を日本固有の領土と記載した日本の教科書に関しては、「(日本でも)分かっている人は、韓国領土が正しいと考えているだろう。無理に一緒に争うことはない」と述べ、過剰反応すべきでないとの考えを示した。 
South Korean pres. Lee appeared on KBS TV last night and stated that he had cancelled his planned trip to Ulleung Island and Takeshima Islets with his wife last month due to bad weather. However, he stressed that he could visit those islands anytime he wishes since they are ours.
Regarding textbooks published and used in Japan which describes Takeshima as an inherent part of the territory of Japan, those knowledgeable of Takeshima islets (in Japan) should consider it right that it is part of South Korea. We don't have to excessively dispute over Takeshima islets.
Outrageous Refusal of Three Japanese Lawmakers to Enter South Korea
Takeshima Issue: Unforgivable Atrocity Committed by the government of South Korea
Takeshima Day竹島の日Should Be Remembered Along With January 18, 1952-A Date Which Will Live In Infamy
What's Wrong With South Korea?
Face International Justice Over Takeshima or Crawl into a Hole and Disappear